Quality Assurance System certification in accordance with the IATF 16949:2016 standard for the automotive industry
Having already entered the value chain of the automotive industry, Symetal was recently certified for its Foil Rolling Plant's Quality Assurance System in accordance with the IATF 16949:2016 international standard. The certification was granted by Lloyd's Register Quality Assurance (LRQA).
IATF 16949:2016 promotes continuous improvement, defect prevention, reduction of variation and waste in the supply chain. Many of the world's leading automotive manufacturers and their supply chains require the IATF 16949:2016 standard certification as a contractual prerequisite for suppliers. It is worth noting that certification is globally recognised and accepted throughout the automotive supply chain as an industry benchmark.
The IATF 16949:2016 standard certification reflects the importance Symetal places on fundamental values, such as commitment to the highest quality standards, continuous improvement of processes and procedures and development of innovative and sustainable products, always powered by the Company's highly skilled and educated human capital. It also contributes to the improvement of Symetal's image of prestige and reliability in the market.
Fedon Paraskevopoulos, Symetal's Quality Assurance & Sustainability Manager (Foil Rolling Plant), commented;
"We take quality very seriously. The purpose of the certification in accordance with the IATF 16949:2016 standard is to ensure that all our customers, in addition to the automotive customers, can rely on steady delivery of high-quality products and services. Symetal has always been committed to customer satisfaction, ongoing improvements and product and service quality; this certification is evidence of that commitment.
It is worth mentioning that only few Greek companies have achieved such a certification, as IATF 16949:2016 is a very demanding quality standard for the automotive industry and the certification requirements are more stringent than the ISO 9001:2015 QMS standard certification. As a result, Symetal now has a more robust Quality Assurance System than ever before."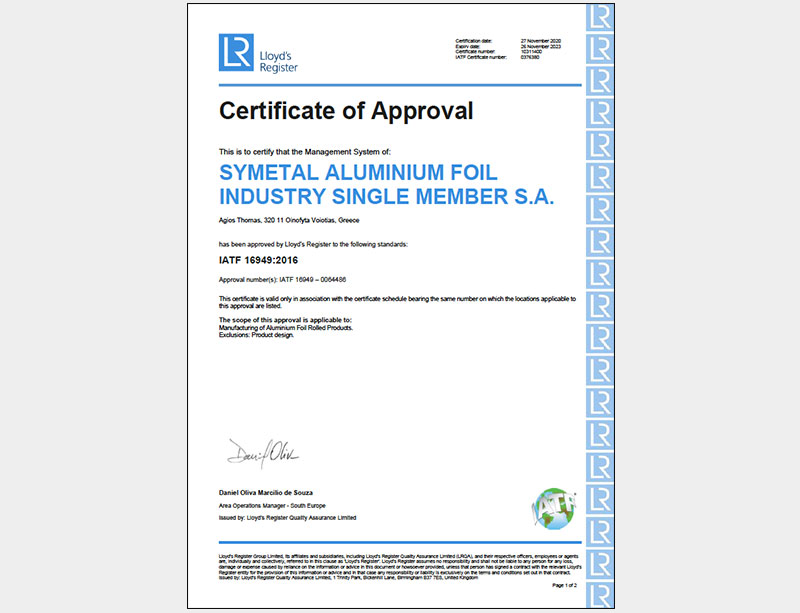 Symetal produces sustainable aluminium foil products, mainly used in packaging solutions for the food, pharmaceutical and tobacco industries. The Company is highly export-oriented, with 95% of sales realised in over 60 countries in Europe, US, Middle East, Africa and Far East. Symetal is an aluminium segment subsidiary of ElvalHalcor S.A., a leading global industrial producer of aluminium and copper products and solutions.
Lloyd's Register has been a market-leading management systems training and certification body for more than 30 years, and is one of the select few organisations recognised by the IATF to provide automotive certification. For more information, please visit the website:
www.lr.org
.